My personal collection

I have approximately 100 horses in my personal collection. Here are a few favorites. Most are Origonal Finish and only a few are my own customs. Those customs are listed on this site as NFS. Do you recognize some old favorites?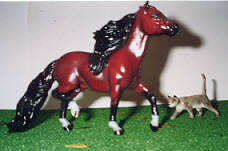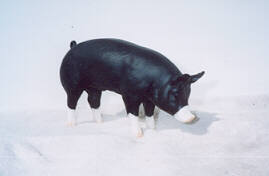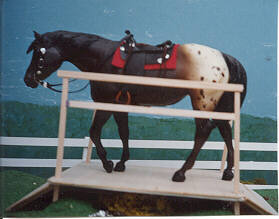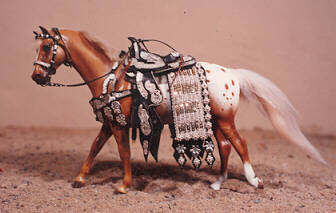 Heritage Hopeful - Hartland resin by Kathleen Moody- LE of 75 pcs. (# 50)

Oreo-Breyerfest 99' surprise model -              LE of 250 pc

Performance Horses

Every color ever produced on this model is pictured here-another of my favorite molds

Saddlebred weanlings - my favorite colors on this mold

Misty (center) was sold and sadly destroyed in shipment :(

"FFA Queen" - one of my very first models- many times champion and multi grand champ showing in the 80's and early 90's.

"FFA The Diamond Fox" - my first custom by Kathleen Maestas and my inspiration to do my own customs. This horse won championships in EVERY division!

A bit about me (Tammie Cappuccio)

I first started collecting at the age of ten with a Stud Spider model I bought at Child World for $3.99. It was like potato chips- you can't have just one! My collection grew to over 400 models which when I married had to be packed away due to space. (try putting 400 models on display in a one bedroom apartment!) After six or so years I took them out  with the intent to sell them all but a handful- but the model collecting bug hit again and here I am-collection pared down to 150 and chinas/porcelains are my main things right now. As a note you may notice most of my Appaloosa customs have "Fox" in thier names. My old stable name was Foxenfield Appaloosas and when I bought my first custom from Kathleen Maestas I used the "Fox" in the models name to represent my farm-hence "The Diamond Fox". As a tradition most of my apps now carry that in thier name or something similiar. "FFA The Diamond Fox" wore his title proudly and was many many times champion and grand champion at nationwide shows in the 80's and early 90's. He's now retired and I've been customizing my apps to follow in his hoofprints.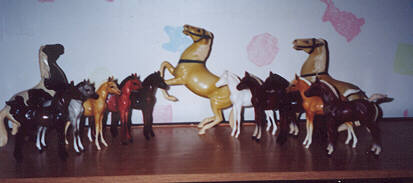 Part of my Hartland collection includes one of my top favorite molds  like the weanlings.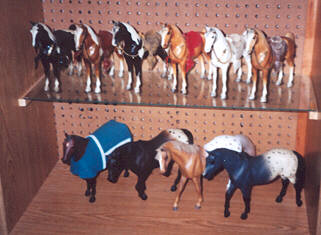 Breyer western ponies in my favorite colors in each type of saddle and some special favorites on bottom: Halla, Indian Pony (FFA Queen), FFA The Diamond Fox-the custom that inspired my own creations and a San Domingo that was labelled "blanket appaloosa"-just love the color.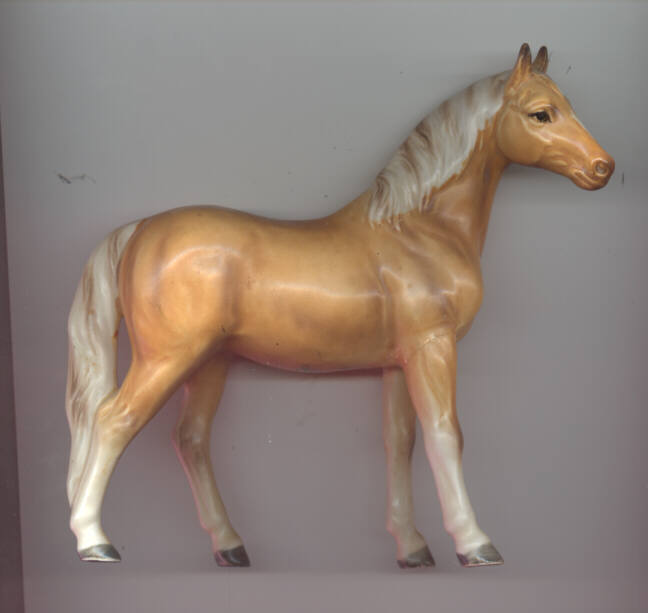 "Palomine" Lefton palomino.

Northlite Hunter- my first NL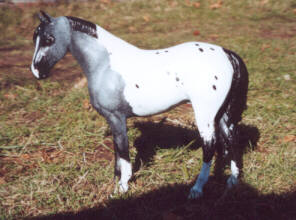 TC Fox's Blues Clues - customized app yearling. One of my first remake projects. She won a championship at her one and only show.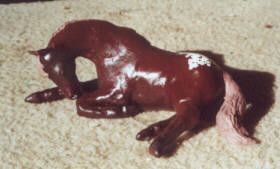 My very first origonal sculpture out of Sculpy.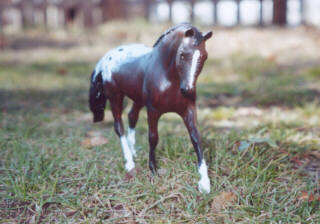 TC The Starlite Fox - customized to POA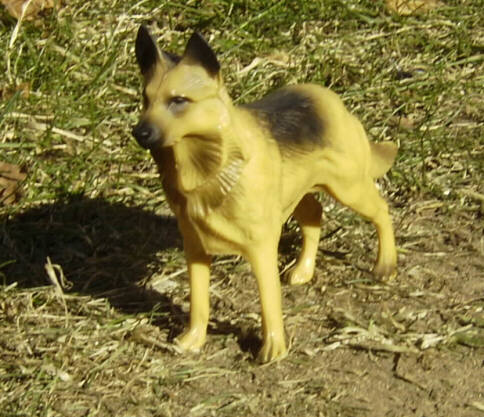 One of my latest additions- a Hartland "Bullet" in mint condition.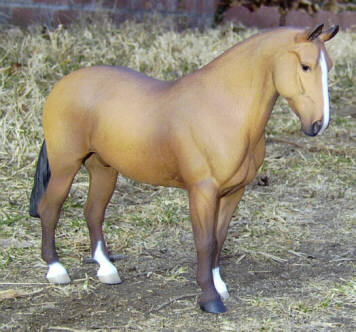 NL Cob- came to me with a broken ear- repaired that and he's as good as new!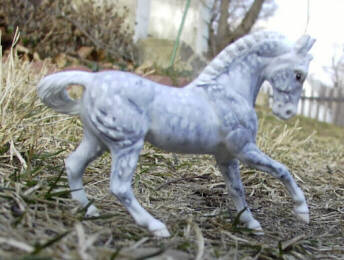 Stablemate Warmblood with mane resculpted to braided and painted dapple grey by me. One of my first and only dapple grey customs :) Placed well live showing.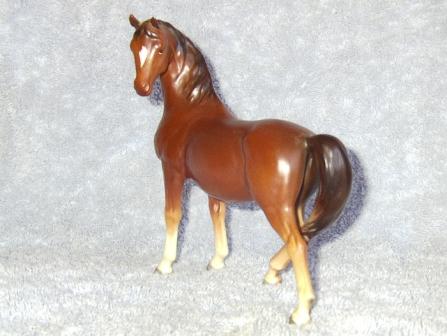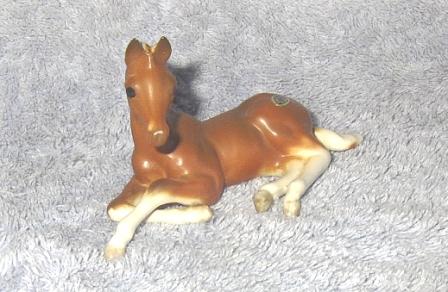 Josef Originals china foal w/foil sticker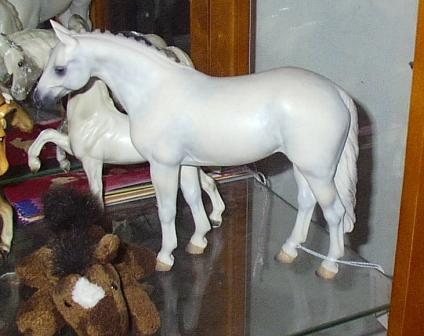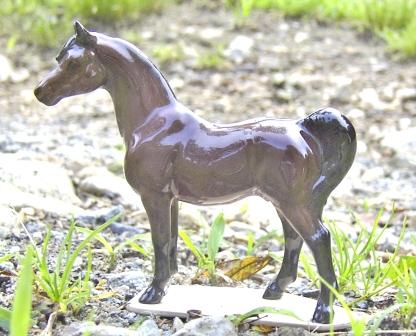 china Hagen-Renaker sm size arab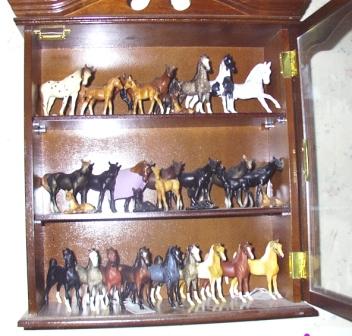 My stablemate cabinet- I love the saddlebreds, foals and TB mares. 98 percent of these are the old mold (not from china).

My cabinet #1 mostly all chinas of various makers. The rearing horse is mint rare large Norcrest.

cabinet #2 mostly all chinas of various makers

Below- cabinet #3 most all chinas- the collie is a Brinn's and that donkey is Bubba, a resin.

Cabinet 5 - Windstone dragon 1993, breyer, harland, stone, doc holiday custom glaxe and china :)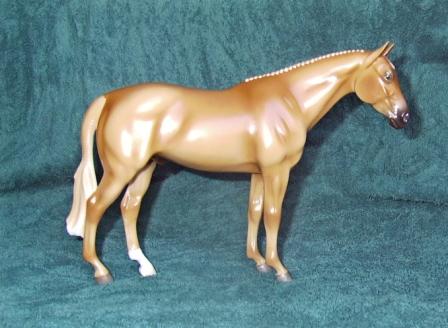 Lakeshore Marshall Porcelain in satin gloss chestnut. NAN qualified live- only 60 made.

2004 Breyerfest Tent special Porcelain "Adriano" Spanish Barb - stunning coloration! Under 750 made.

Very rare 10" tall Norcrest china with sticker.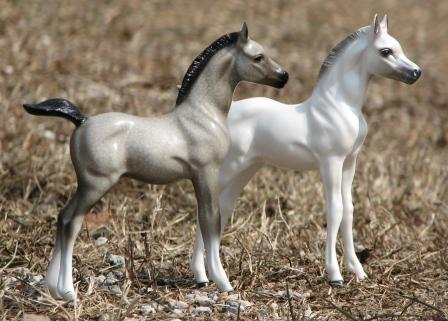 Hartland 6" Paola Weanlings